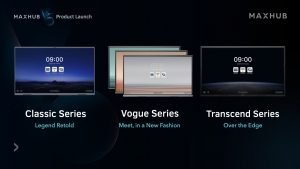 Since the first launch in 2017, MAXHUB has tremendously changed the landscape of modern meetings with its conference IFP products. Three years later, it is the new goal to offer simplicity to a broad range of workspaces during what used to be time costly and labour-intensive sessions.
The new is now. Together, let's venture to be different!
This, is MAXHUB V5! With MAXHUB V5, modern collaboration has just started.
With renewed passion in enhancing collaboration, MAXHUB officially announced the new product series on Oct 20th, 2020, MAXHUB V5 Conference Interactive Flat Panels, including Classic, Vogue and Transcend Series.
Classic Series inherits our concept of minimalist design while delivering intuitive interactions.
Vogue Series values both professionalism and innovation.
Transcend Series represents our unyielding fervour for technology and intense curiosity towards the future.
MAXHUB V5 can empowers your meetings, drives your business, and most importantly, connects your business and staff, ever more closely. The new is now. Together, let's venture to be different!
For your interactive activity, MAXHUB V5 Interactive Flat Panels.